Very nice! I have a similar goal of wanting my traditional percentage to be lower than 50%. Right now my Traditional find percentage is 57.94% of my overall finds. That is down from the 62.18% from 5FEB16. I haven't stopped getting traditionals, but severely cut back and becoming more choosy. Congrats!
Posted : 30/10/2016 4:52 am
Great job Two000miler - doubt I could ever get to that level - but I am very close to Awesnap's 50% non-traditional goal - about 56 difference at this point - but next weekend's Cache Mob on Sunday at Sugar Loaf Mountain will add over 50 traditionals to tilt my percentages to the other side. Guess it is about time to hit the Delaware star and a few other GeoArts - Baltimore Wizard Trail and Star Trek in Newport News are on my list.
Congrats on your accomplishment!!
Posted : 30/10/2016 11:37 am
Congrats to Two000Miler - we are working hard to keep our puzzle count higher than yours and vpdj cache count.
With our recent trip to Hawaii, we have now cached in all 50 states including the Cache Across America cache in each state. On Thanksgiving Day we found the Series Final in DC, so we now have a yellow smiley in the Tidal Basin.
Posted : 30/11/2016 4:32 pm
Today was my 424, not a typical milestone but it matched the date! 4/24.... Last traditional milestone was 400 and I picked the cache (hoping I would make the find) according to the name. Orange you glad.. in Salisbury, MD. It was in a Home Depot parking lot hence the name but I picked it b/c I like the Knock knock joke;
Knock Knock.. who's there
banana... banana who
Knock Knock.. who's there
banana... banana who
Knock Knock.. who's there
banana... banana who
Knock Knock.. who's there
Orange... orange who
Orange you glad I didn't say banana again.
lol.. it's the little childhood memories that stick around to keep us young.. right??
Posted : 24/04/2017 7:54 pm
Passed a couple of milestones with our recent trip to the Midwest:
1,886 Virtual finds - so this year we passed the 1,500, 1,600, 1700 and 1,800 milestones.
Passed the 7,200 Unknown finds milestone.
Once Mrs Seadog catches up on her logs, we will pass the 1,900 benchmark milestone.
Posted : 30/06/2017 12:34 pm
Yesterday I finished my Double Jasmer challenge. I picked up my lone remaining March 2001 cache on Sunday with Chickies Rock Overlook GC5AF. I then filled back in January and February 2018 while I was there. Then Monday after work I visited Countryside and Algonkian park to pick up my two March and April 2018 caches. The last required cache was Ranger's Romp #2 GC7N96B. Thanks to all the people that keep putting out new caches. It is nice not having to drive hours to fill back in the recent months.
Posted : 24/04/2018 12:44 pm
Another milestone this past weekend on Geocaching Day. I have finished filling in the Lower 48 (+DC)
It is a bit far of a road trip (though totally doable based on nottheireither's experience) for AK and while awesome my truck may be, driving it to HI would be pushing it.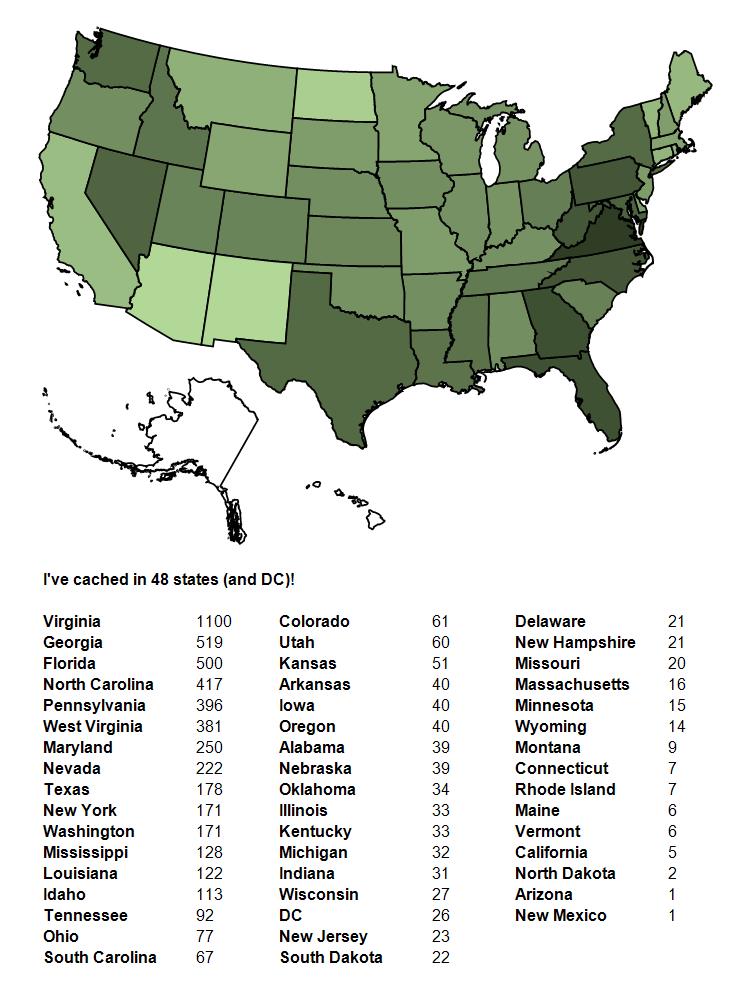 Posted : 21/08/2018 9:47 am
Congrats!! Looks like you're now ready to celebrate with a vacation in HI! We still have a long ways to go.
Posted : 21/08/2018 12:27 pm
We totally signed onto the waiting list to Chaperone the boy's JROTC trip to Hawaii next spring. Though a real trip it in order to do it properly. Luckily both Hawaii and Alaska are on Tasha's wishlist so as long as she gets to go I'm pretty much in the clear there.
Posted : 23/08/2018 6:26 am
Posted : 04/09/2018 1:00 am